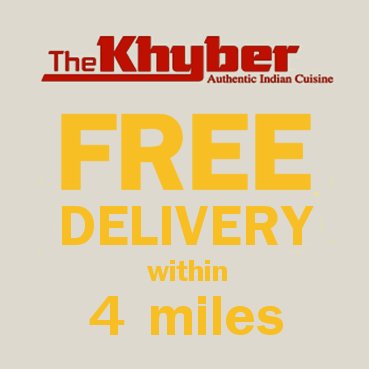 Wiltshire's Finest Indian Restaurant
The Khyber is Wiltshire's first and finest Indian restaurant, now celebrating 50 years!
We'd like to thank all our customers past and present for their loyal support since we first opened in Swindon in 1962. Here's a recent article from the local paper we think sums up very well how we feel half a century on.
Article taken from the Swindon Evening Advertiser:
Wiltshire's oldest Indian restaurant plans to spice up its 50th anniversary by giving something back to the community through a round of charity fundraising.
When the Khyber opened its doors in 1962, Tom Cruise had just been born and John F Kennedy was dealing with the Cuban missile crisis.
The restaurant, in Victoria Road, has remained in the hands of the Ali family ever since and many of the original customers have stayed loyal the entire time. Brothers Sadik and Hasan stepped in to carry on the family tradition after their father, Afiz, died in 1988.
Sadik, 42, said: "When my father opened the restaurant, there was nothing else like it in Wiltshire."
"Like many other families, we came as migrants but stayed on and became British."
"Over the past 50 years, our menu has evolved and broadened, but the fact we offer good food and personal service has always stayed the same."
"Today we are welcoming the grandchildren of our original customers. We have watched kids grow up and they have introduced their children to curry."
"Because of the relationships we have built up, our customers not only come from across the generations but also from Swindon, Wiltshire and even further afield."
Sadik, who lives in the town centre, has found running the restaurant hard work, but the loyalty and support of the customers have made it worthwhile. The brothers have ensured the restaurant's lasting appeal by broadening the menu to include influences from across the Asian sub-continent and Malaysia.
The Khyber plans to mark its anniversary with a big round of fundraising for local charities. The restaurant has already supported Marie Curie cancer care, Prospect Hospice and local football and rugby teams.
Sadik said: "We pride ourselves on being in the community, for the community and working with the community."
"Our anniversary will reflect this and we plan a big push over the rest of this year to support good causes in the area."